Waddesdon Manor is the perfect place to hold your special day and for the first time, a limited number of weddings can be held in the Manor itself.
This is an exclusive opportunity to experience the same privileged lifestyle as Baron Ferdinand's house party guests, with superlative food, excellent wines and unsurpassed service.
Need to know
Indoor ceremony licence ✓
Indoor civil ceremony capacity 60
Outdoor civil ceremony license ✓
Indoor banquet capacity 30
Marquee banquet capacity 500
Marquee evening capacity 500
Exclusive use ✓
Wheelchair access ✓
Child friendly ✓
Live music permitted ✓
Onsite parking ✓
Finishing time 1am
Extension available ✓

Food & drink
Our Executive Chef uses only the best British and seasonal ingredients to produce imaginative, delicious menus, tailored to your exact requirements. For larger marquee events, selected outside catering companies are invited to the house.
Ceremonies & receptions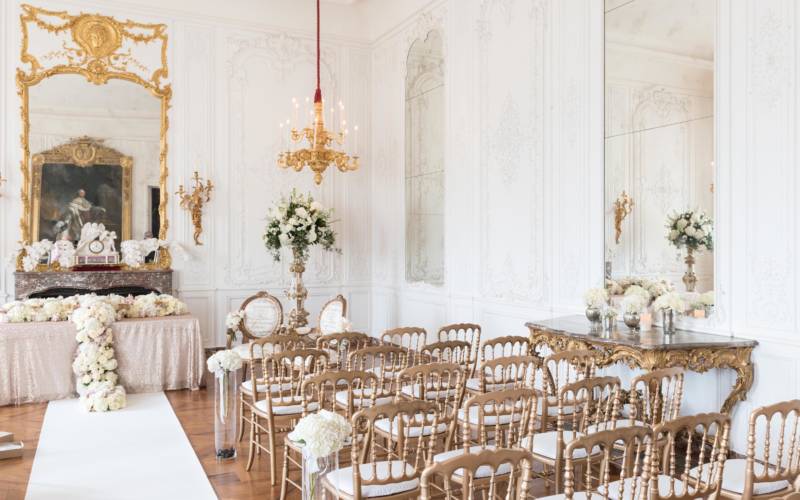 Exchange your vows amidst the splendour of the White Drawing Room, its huge picture windows overlooking the Victorian garden bedding below and rolling landscape beyond. Alternatively, the fabulously ornate Aviary just a stone's throw from the Manor makes a unique outdoor ceremony venue.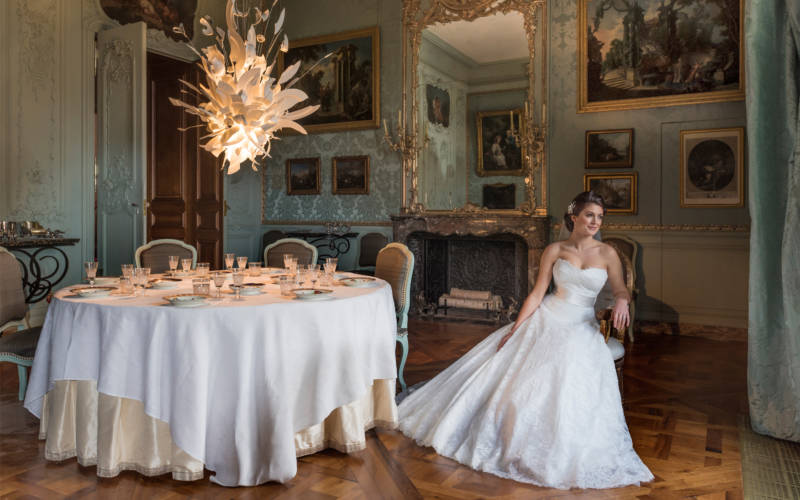 For the wedding breakfast, smaller groups can dine in the coolly elegant Blue Dining Room with its stunning and iconic Ingo Maurer chandelier. The White Drawing Room offers a gorgeous backdrop for slightly larger gatherings, or for large numbers dine and dance in style in a specially erected marquee.
Prices
Exclusive use
White Drawing Room (ceremony) from 4pm, Waddesdon Manor Grounds from 6pm – £25,000
White Drawing Room (ceremony) only from 4pm* – £12,500
* Available in conjunction with a reception at the Dairy.
Capacity
Ceremony:
White Drawing Room – 60 guests
Aviary – 60 guests
Drinks:
White Drawing Room and Red Ante Room – 60 guests
Cellars – 60 guests
Parterre – 500 guests
Marquee – 500 guests
Dining:
White Drawing Room and Red Ante Room – 30 guests
Blue Dining Room – 16 guests
Marquee – 500 guests
Dancing:
Marquee – 500 guests
Clients must appoint an approved planner for all other arrangements for their special day. In-house planner available – please expect to pay approximately 12.5% of your budget for their services. A bespoke quotation will be provided dependent on timescale and wedding size.
All prices inclusive of VAT, subject to change without notice and subject to contract.
History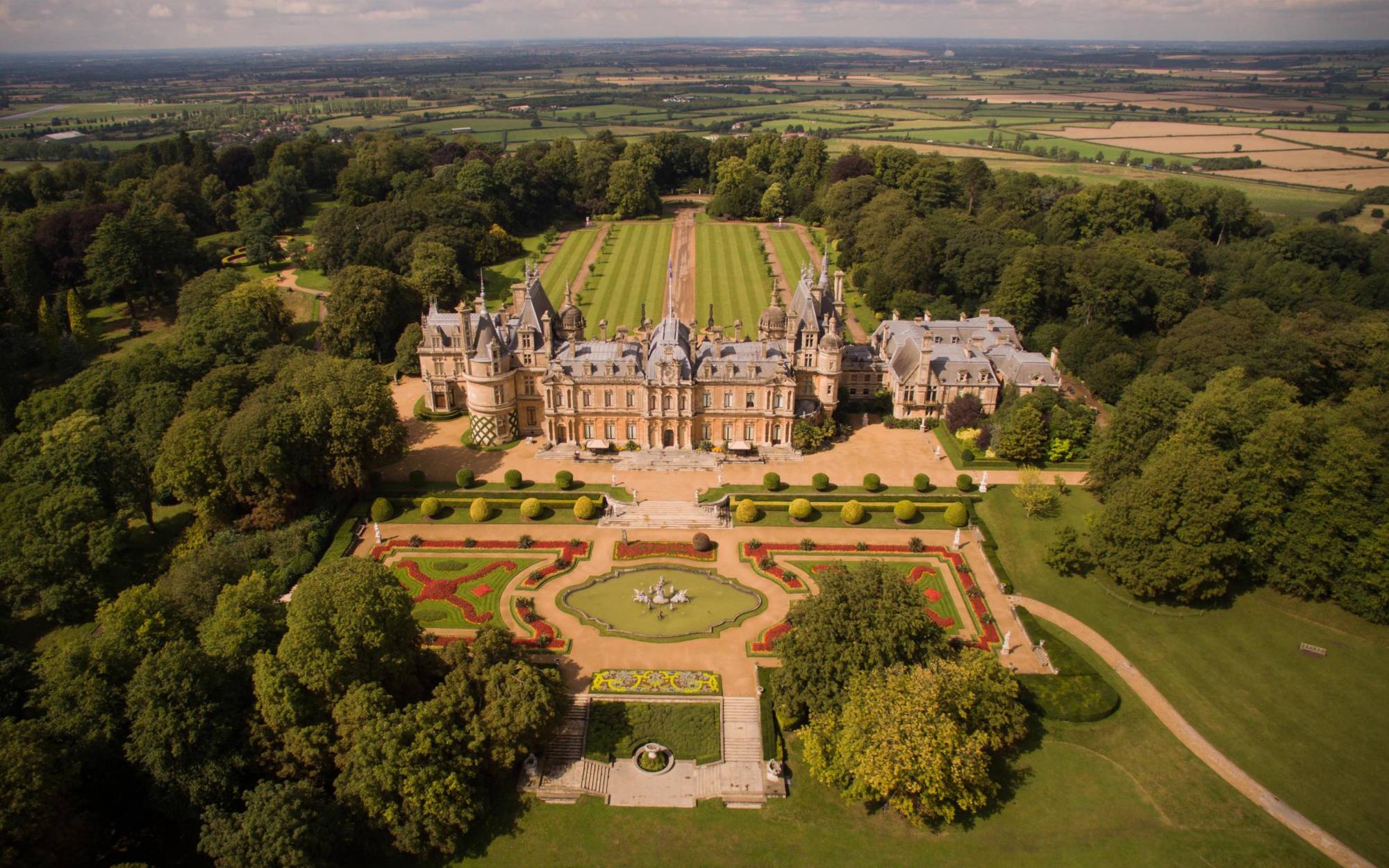 Baron Ferdinand de Rothschild (1839-1898) bought the Waddesdon Estate in 1874. He wanted a country retreat built in the style of a Loire châteaux and soon engaged the French architect Gabriel-Hippolyte Destailleur. The foundation stone was laid in 1877, the completion of the Bachelors' Wing in 1880 and the main part of the house in 1883 were celebrated with house parties of twenty guests.
Waddesdon was created as a place to entertain guests at Ferdinand's famous 'Saturday to Monday' house parties, and his guests included figures from the social circle around the Prince of Wales, politics, and culture.